Products / Service:Material list
Titanium alloy
We produce a lot of titanium alloy.
GelFlex
GelFlex
We proudly present you our new titanium alloy, named "Gel Flex" It's soft as gel, and superior in resiliency and elasticity like coil spring.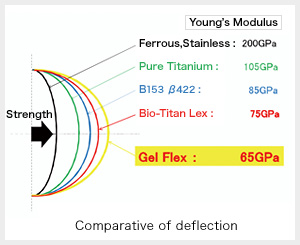 Young's Modulus is a number that measures an object or substance's resistance to being deformed elasically when a force is applied to it.As you can see from the distribution map, Gel flex is a low young's modulus titanium alloy.
| | |
| --- | --- |
| Use | Optical frame、Golf club head |
Bio series
Bio series are well-balanced in bio compatibility, high strength and low young modulus have received a lot of attention in recent years.
Medical Industires has a great interest of this Bio titanium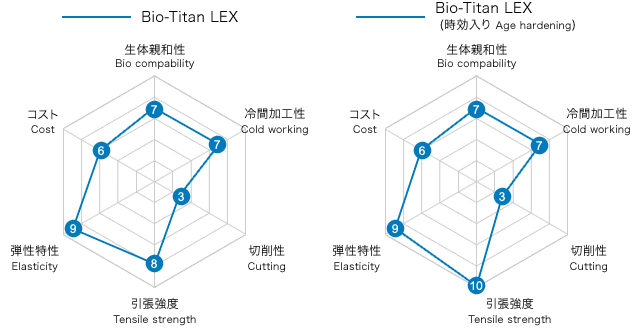 Bio-Titan LEX
Newly developed Bio-Titan Lex, high-strength superelastic titanium alloy with the charasteristics of superior spring, and its strength like the muscle of the first class athlete in a good balance.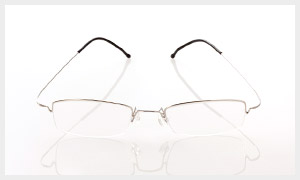 Use
Catheter、Golf club head、Suspension、
Erosion shield、Optical frame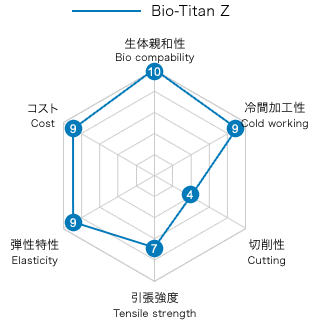 Bio-Titan Z
Bio titan Z is one of the low elastic titan alloy developed for the endosteal implant. This Bio titan Z has the similar elasticity data to human bones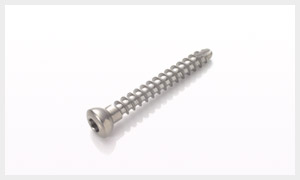 Use
Medical、Artificial bone、Implant、Screw、Fastener 、Accessary、
Optical frame
S.M.T(Super Machinable Titan)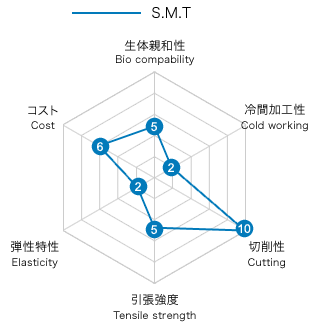 S.M.T
Newly developed titanium alloy "S.M.T" is superior in machinability, grindability and distinguished glittering surface
The mechanical and corrosion properties of SMT is almost same with other titanium alloys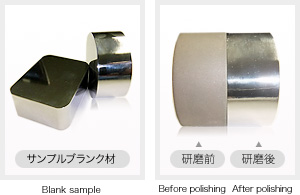 | | |
| --- | --- |
| Use | Watch case、Fastener、Optical parts |
Beta titanium
Excellent in cold working and harder than pure titainuim, moreover aging treatment makes Beta titainum much harder one
We have two different types of Beta titanium in our stock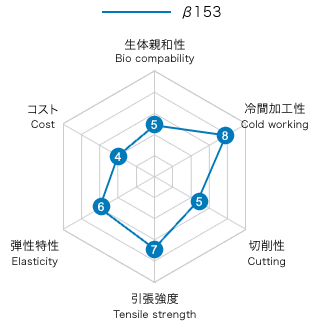 Use
Bicycle gear、Screw、Fishing goods、
Golf club head、
Optical frame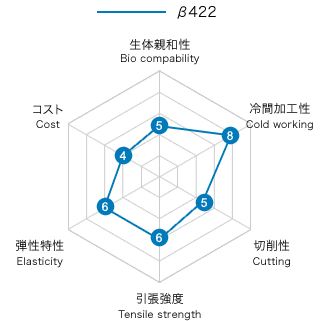 Use
Valve、Spring retainer、
Bolt、Optical frame
Hybrid series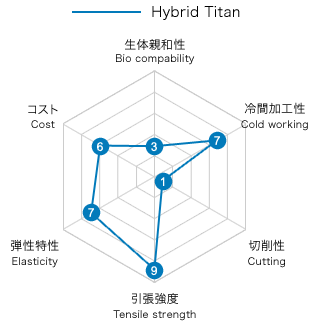 Hybrid titanium
One of the hardest titanium alloy, Hybrid titan , is harder than Beta titanium and makes complex and advanced design available
| | |
| --- | --- |
| Use | Racing saspension、Optical frame |
Other titanium alloy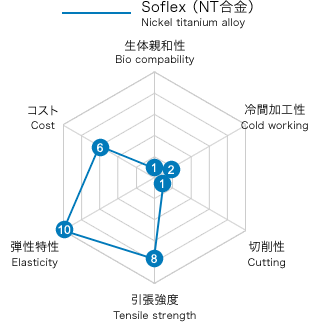 Soflex(Nickel titanium alloy)
Soflex (Nickel titanium alloy) is known as shape memory alloy, famous for the property of recoveries from deformation at the transformation temperature.
Use
Bra、Dental spring retainer、Fishing line、Mobile phone wire、
Optical frame
Feature of Soflex
What is shape memory ?
1

ただの丸棒を

2

治具で固定し特定の熱処理をすると

3

形状記憶できた
Fix a round bar to a jig and anneal at a certain temperature, it turns into a shape memory alloy.
What is superelasticity ?
▲Soflex temple bending test
▲Soflex temple bending test
Standard titanium for medical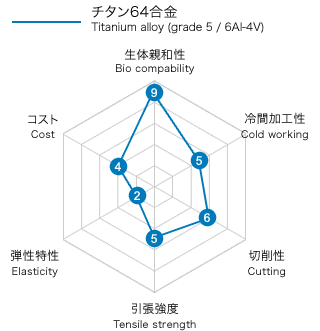 Titanium alloy (6Al-4V)
Good performance in machinability and welding, also stable under high temperature, 6AL-4V titanium alloy is applied for medical, aircraft and various kinds of product.
| | |
| --- | --- |
| Use | Medical、Artificial bone、Implant、Screw、Fastener 、Bicycle gear |
◀ Implant ▼
◀ Medical tweezers